HISTORY/BACKGROUND/GENESIS
The kannada Department was started in the academic year 1967-68, along with the inception of the college. Kannada was introduced as basic subject only for PUC,BA-I and B.Sc-I classes in that year. Total workload was 12hours per week  the founder Principal of the college late. Dr B.B.Hendi was eminent Kannada Lecturer and Writer . He along with his administrative responsibilities taught the subject. He joined the service on 11
th
May 1967. He left the department to join the PG centre at Gulbarga on 8
TH
 September  1971. In the year 1968 B.Sc-II and BA-II classes were started in the college with Kannada as one of the basic subjects. In the same year the management was kind enough to introduce Kannada as major subject along with minor. This created one full time lecturer Post. Prof. B.M.Magi  was appointed as full time lecturer on20th june 1968 to take care of the additional workload. He got retired on 30
th
April 1984. In the year 1969-70 BA-III class was started with Kannada as major and minor subject . With this, Workload was increased to 36 hours Per week. Thus creating the necessity of appointing one more full time lecturer. Prof. D.V.Revadi joined the department on 1
st
August 1970, to take care of the additional Workload. He was in service till 30
th
April 1988 From the academic year 1973 Kannada as a major and minor subject were started for BA- I with two papers and it was extended for BA-II in 1974 and for BA-III in 1975. This enhanced the workload of the department further. New appointment was to be made. Fallowing members of the staff served the department from 1974 onwards.
| | | | | |
| --- | --- | --- | --- | --- |
| Sl  | Name  | Designation  | Served the Dept |   |
| No |   |   | From | To |
| 1 | Shri.D.K.Kulkarni | Part-time Lecturer | 12-08-1974 | 15-03-1975 |
| 2 | Shri.M.M.Biradar | Full-Time Lecturer | 01-07-1975 | 10-07-1999 |
| 3 | Shri. K.B.Kotur | Staff-Gap Lecturer        | 10-08-1982 | 15-03-1984 |
| 4 | Smt.S.C.Sindhur |                 ,,        | 12-09-1984 | 16-03-1985 |
| 5 | Shri.V.S.Kattimani |              ,, | 08-09-1984 | 16-03-1985 |
| 6 | Shri. M.I. Golandaj |            ,,  | 29-08-1985 | 14-03-1987 |
| 7 | Shri.S.Y. Nagaral |            ,, | 10-08-1987 | 18-09-1995 |
| 8 | B.M.Chalawadi | Fulltime lecturer        | 26-08-1985 | 31-12-2018 |
Prof B.B. Kadli HOD Joined the Institution on 1-8-1988 and Dr. Tippeswamy D.S on 25-6-2008 as full-time lecturer. From the academic year 1990-91 the major and minor subject concept was replaced by three equal subjects for degree course .in the very next year 1992 B.Com course was started in our college. Kannada became basic subject for B.Com-1 Workload for the Kannada department increased with this and necessitated the appointment of two part-time lecturers. Prof S.S. Mudapaladinni and Prof. M.B.Onti were the two part- time lecturers who were appointed on 22-9-1995. When Prof. M.M.Biradar took voluntary retirement on 10-7-1999 both were upgraded as Full-time Lecturer on temporary base.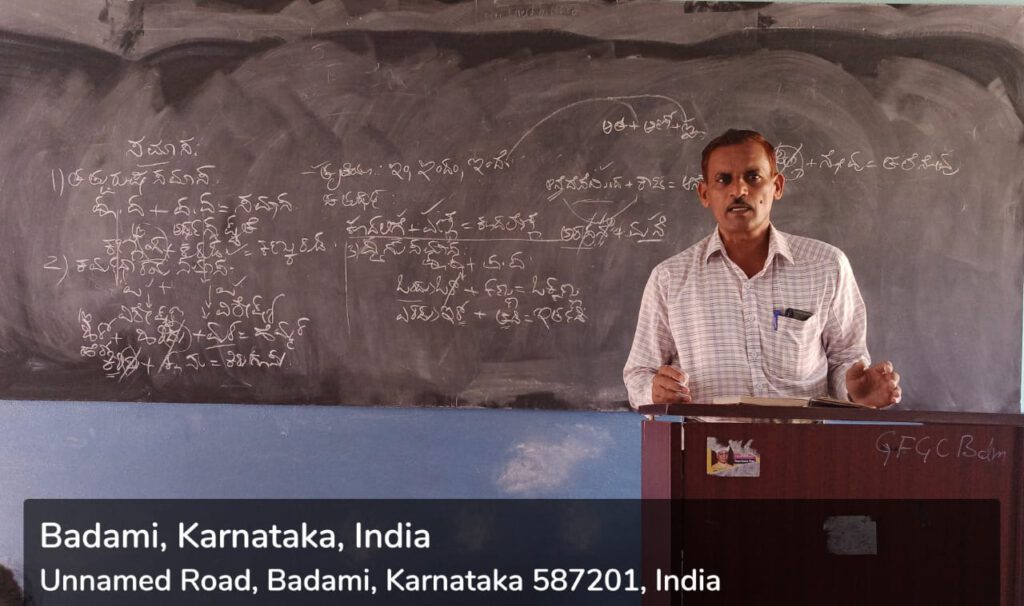 To organize programmes to create awareness about Kannada Nadu, Kannada language and Literature through Kannada sangha.
To motivate student to write poems, short stories, Drama's and creative wrintings.
To make students understand easily Halagannada Literature.
To benchmark career goals offering academic excellence.
To keep in reach to the learners and respond to their needs.
To chart a helpful career and academic path for the students.
To follow the global trends, not forgetting the local relevance.
GOALS & OBJECTIVES OF THE DEPARTMENT
Kannada is the second oldest living language in the country next to Tamil. The language as very rich literary heritage going back to 5th century AD. Teaching the language and finer  aspects  of literature according to the prescribed syllabus is only part of our job and objectives. We, at our department believe that, a language is not merely a medium of expression ; but also a means of enriching one's cultural existence. The department aims at giving knowledge which will create interest in literature, culture and vocabulary.
Study of literature should make our students more sensitive and refined Human beings with enough social awareness and consciousness. For that a free exchange of ideas between the teacher and the taught is necessary. We aim at creating an atmosphere in our department; where the continuous dialogue, among the members of the department ( both the teacher and the students) will ultimately bring out the best from the students to maximum satisfaction of the teacher.
| | | | | |
| --- | --- | --- | --- | --- |
| SI No | Name | Designation | Highest qualification | Joined the Dept on. |
| 1 | Prof B.B. Kadli | Asso. Professor | M.A | 01-08-1988 |
| 2 | Dr. Tippeswamy D.S | Assi. Professor | M.A. Ph.D | 25-06-2008 |
| 3 | Dr.M.B.Onti | Lecturer | MA/M.Phil ,Ph.D | 22-09-1995 |
ROLL OF HOD's:
Dr. B.B. Hendi

B.M Magi

D.V. Revadi

M.M. Biradar

B.M. Chalawadi

B.B. Kadli
EVENTS:
1 . Programme of Kannada sangha
2. Webinar
3. MOU of B.V.V Arts College Bagalkot and Government First Grade College         Badami
ADDRESS:
  Department of Kannada
V.M.K.S.R.V Arts, Science &
V.S. Bellihal Commerce College, Hungund- 587118
At post-taluk : HUNGUND
Dist: Bagalkot
State: Karnataka ( India)
KANNADA  SATHITYA VEDIKE:
 The College Kannada Sahitya Vedike was started in the year 1967. The head of the department  is the President  and all the teaching staff of the college and interested students can be enrolled as members. The aim of this organization was to organize literary activities and promote linguistic harmony among the students. 
THE ACTIVITIES TAKEN UP BY THE SAHITYA VEDIKE.
 Address/Seminars/Special Lectures by fallowing eminent literary figures were organized.
'KANNADA SANGHA'-INAGURATION 25-9-2019-JEEVANSAAB.WALIKAR
ADDRESS:

Dr.C.Veeranna 

Shri.Doddarangegouda

Dr. B.V.Mallapur

Shri. Shankar Mokashi Punekar

Dr.Siddalinga Pattanashetti

Dr.Giraddi  Govindaraj

Dr.M.M.Kalaburgi

Dr.Gurulinga Kapase

Dr. B.R.Hiremath
Dr.S.S.Kotin

 Shri Baraguru Ramachandrappa.
Shri. B.A.Vivek Rai

Dr.K.V.Narayan

Dr. Shreemati (Hampi)

Dr.A.Murigeppa

Dr. Mogalli Ganesh

Shri. Eranna Itagi

Smt. Mallika Ghanti

Shri G.S.Shivarudrappa

Shri.H.S.Venkatesh Murti

Shri. K.R. Dugadas

Smt. Indumati salimath

Shri.M. V. Hiremath.

Dr. Siddanagouda Patil

Dr Gurupad. Mariguddi

Dr Chandrashekhar Nangali

Dr Satyanand.Patroot

Dr Sangamesh.Kalyani

Dr Neelagiri Talawar

Shri G.V.Malagi

Shri Ibrahim Sutar
SEMINARS, WORKSHOP,DATTI UPANYASA:
'Kadambari and Samajik Badalavance'-1990
Dr.G.S.Amur

Dr.Keertinath Kurtkoti
' Sanna Kategalu Ondu Adhyayana '-1991
Shri.T.P.Ashok

Dr.Mahadev Kanavi

Dr.B.B.Hendi
 Gubbi Veeranna   Janma Shatamanotsava- Nataka Sahitya'-1992
i) Dr.Veeranna Rajur
ii) Shri. B.R.Policepatil
'Adhunika  Kannada Kavya'-1993
i.Shri. Nagesh Rampur
ii.Shri. Channappa Katti]
iii.Shri. Satyanand Patroot
'Sharanaru hagu soofigalu-Late Shri V.N.Uppin Datti Upanyasa -2011
Chief Guest – Lalhusen Kandagal
'Anandakandara Sahitya & Vyaktitva'-2015
Dr. Raghavendra Patil- Malladihalli

Dr. Balasaheb Lokapur- Bagalkot

Dr. S Divakar- Mysore

M.V. Hiremath- Dharwad
F.G.HALAKATTI & DR,L.BASAVARAJ-NUDINAMANA-2018'(February)
Dr, V.B. Rajur 

Dr, Gurupad Mariguddi

Shri. Neelagiri  Talawar

Dr. Chandrashekhar  Nangali
  'Vishwa Rangabhoomi Dinacharane'-2019 (March)
Shri Gundanna  Deshapande

Shri Prahlad Desai                      
Online webinar on' Vachanagalalli moulya vivechane' 20-8-2020-from Kannada Dept.
Prof. G.V.Malagi, JSS Degree College Gokak(Resource person)
 Dr.S.V.Baligar-'Janapadadalli Rasikate-1982
Dr. Shri.S.V.Baligar-'Sahitya Haagu Jeevana'-1986

Shri.Allamaprabhu Betadur-'Navodaya, Bandaya Sahitya-1988

Dr. N.S. Laxminarayanabhatt-'Sahitya, Sanskruti And Bhavaikyate 1990

D.R .S.S.Kotin-'Kavya Srushtiya ouchitya'-1990

Dr. Vinayak Nayak-' Poet A.K.Ramanujan'-1995

Shri. T.R. Chandrashekhar-'Nayi mattu pinchani'-1997

Shri .B.Pranesh-' jeevanadalli Hasya'-2001

Shri. Kum. Veerabhadrappa-'Jeevanada Halavu mukha'-2003

Shri. Mallepuram G. Venkatesh-' Badukina Vastavate'-2003

Dr.G.S.Shivarudrappa-'Yugada Kavi Kuvempu'-2004

Dr.H.S. Venkateshmurthy-'Kalachida Nakshatra Kavi K.S.narasimhaswami'-2004

Smt. Geeta Nagabhushan-' Kannada Dalita Atmakathanagalu' 2003-2004

Shri.Shankar jogan Samskrutika Samvada}-2005

Dr.Veeresha Badiger ' Hastaprati samraxane'-2006

Shri. Raghavendra Patil Malladihalli-' Bhavanatmaka-sambandhagalu'-2007

Dr.K. Ravindranath-' Hastapratigala Parichaya &   Samraxane'-2007

Dr.Vijayadevi –'Adhunika Anubhavigalu'-2008

Dr. V.S.Katagihallimath'Ranna-gadayuddha'-2014

Prof G.G.Hiremath-' Sahitya and samakalina sandarbha-2016

Dr satyanand.Paatrot-'Budha,Basava,Gandhi&Ambedkar-2018.

Dr,Sangamesh. Kalyani-'Bharatada Itihasarachaneyalli Modi Dakhalegala Koduge- 2018

Dr,Maheshkumar Patil-'Karnataka Shasanagalalli Shixana-2019
II) RAPPORT WITH OTHER INSTTITUTIONS/ OTHER                  ORGANIZATIONS
Our college Kannada Sahitya Vedike has organized functions in association with the institutions like taluka Kannada Sahitya Parishat, Kannada Kriya samiti, Lions club, BIRDS,LIC, Sharana Sahitya Parishat, Dhruvarang etc.
III) VACHANA KAMMATA EXAMS:
Basava Kendra of chitradurga's Brahanmath is conducting-' Vachana Kammata examinations  Since1999;for the morel upliftment of the students. These Examinations  are conducted in our college every year,up to 2014 Prof S.S.Mudapaladinni& 2015 on words it is under the guidance of Prof,M.B.onti. Our students have made remarkable achievements in these examinations.
Sl No

Name

Position

Place (Address)

1

Shri.Hudedgaddi C.G

Lect in Kann

Shri Annadaneshwar 

College,Naregal

 

2

Shri.Goudar S.H

Principal

Govt PU College,Gudur

3

Shri. Chandrashekhar Hiremath

Tahasildar

Taluk Office, Lingasgur

4

Shri.Kudlppanavar S.S

Librarian

V.M.S.R.V. College,Hungund

5

Smt Kasturi Nandawadgi

Lecturer

Maharani College,Bengaluru

6

Smt Meera Nandawadagi

Principal 

Govt PU College,Guledagudd

7

Smt. Hawaldar A.S 

Librarian

S.J.V.P.College,Hubli

8

Smt.Upanal V.S

Judge

J.M.F.C Hubli

9

Smt. Odeyar S.S

Teacher

Govt High School,Marol

10

Shri. Mudapaladinni S.S

Lecturer

V.M.S.R.V PU College,Hungund

11

Shri. M.B.Onti

Lecturer

V.M.S.R.V. DegreeCollege Hungund

12

Shri. Hiremath B.R

Lecturer

Govt High School,Bagalkot

13

Shri.Karikal S.V.

Head Master

Govt High School Honnarahalli.

14

Shri.Malipatil D.N.

Teacher

Govt High School Davanageri

15

Kum.Ballary P.C 

Teacher

Navoday School Waddarahatti,Koppal

16

Smt. Odeyar Vijayalaxmi

Superintendent

B.E.O.Office Hungund

17

Smt.Sharada Pachaxarimath

Teacher

Govt High School, Guledagudd

18

Shri. Shashimath.V.K.

Lecturer

Govt Pu College Hungund

19

Shri. Pampangouda Patil

Lecturer

Govt,Jr,College,Sindanur

20

Shri. Somashekharagouda Patil

Teacher

Govt High School,Gangavati

21

Shri.Chittaragi B.D.

Teacher

Govt High School, Ganjihal

22

Shri. Mahantesh Hungund

Teacher

Govt High School Tarlkatti Yalburga

23

Shri.Nadaf A.K

Teacher

Govt High School,Bevinamatti

24

Shri.Nagaraj Kellur

Teacher

Govt High School Tiligol

25

Kum.Gayatri Pujar

Teacher

Govt High School,Nagaral

26

Shri. Chittawadagi H.B.

Teacher

Govt High School,Nagaral

27

Smt.Shanta Banigal

Teacher

Govt  High School Kushtagi

28

Smt.S.S.Kadiwal

Librarian

Govt  First Grade College Hungund

29

Shri.Jagadish Hadimani

Lecturer

Govt Junior College Dhannur

30

Shri. Ravi Hadimani

Teacher

Govt  Degree College Kustagi

31

Shri. Nagbhushan Nagaral

Teacher

Morarji High School Tavarageri

32

Smt. S.B.Patil

PDO

<p style='margin-top:0cm;margin-right:0cm;margin-bottom:.0001pt;margi

Scroll to Top